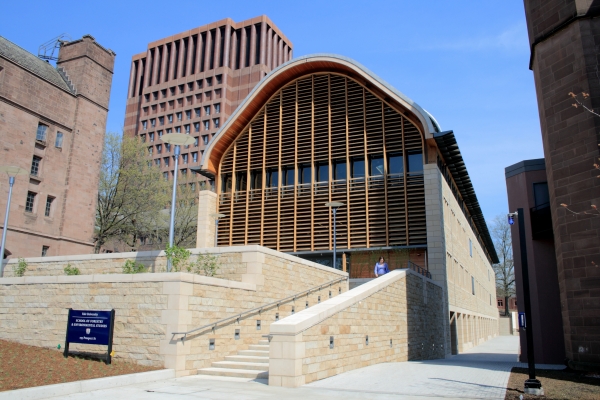 During the last week of October, The Forests Dialogue organized TFD Week at the Yale School of Forestry and Environmental Studies to examine questions about "Deforestation-Free" and related topics. Kicking the week off, TFD convened a two-day dialogue in which representatives of about 35 companies, inter-governmental organizations, NGOs, and civil society groups collaborated to pinpoint the fracture lines that will need to be resolved if zero deforestation commitments are to succeed in reducing deforestation.
During and following the dialogue, a host of programs brought students into contact with many of the dialogue participants. A panel including leaders from The Forest Trust, WWF, and the Roundtable on Sustainable Palm Oil provided an opportunity to report out on some of the conclusions from the dialogue. Students got the chance to ask the very actors involved in making zero deforestation a reality how these commitments will effect change in practice, and a subsequent reception enabled students and practitioners to mingle informally before breaking off into discussion groups to discuss how deforestation is being addressed on the ground in Africa, Latin America, and Southeast Asia.
.@RodTaylorWWF: "We have to be careful that deforestation-free doesn't become a one-issue cause" #TFDWeek

— The Forests Dialogue (@forestsdialogue) October 29, 2014
During another event, the Yale Forest Forum lunch, hosted by the Global Institute for Sustainable Forestry, students were able to discuss questions around certification with forestry managers from International Paper and Kimberly-Clark. While this excited many people who potentially want to work in more traditional forestry areas, the event "REDD+: Translating Policy into practice" took on the ecosystem service aspect of forests.
Breakout lunches at the School of Management where students discussed with leaders from the corporate and NGO arenas how companies influence and are influenced by their supply chains, how to advocate for innovation in traditional decision-making spaces, and the nature of and ways to achieve the triple bottom line
"Government rarely leads, you need to create the momentum to let the politicians act somewhere else." Matt Daggett @Greenpeace #TFDWeek

— The Forests Dialogue (@forestsdialogue) October 29, 2014
As gender issues remain one of the main priorities for TFD, a TFD tea on Gender and Natural Resources followed the day after and was attended by leading experts like Professor Amity Doolittle and Jeannette Gurung from WOCAN.
To finish the week off, TFD organized a "Spooktacular Networking Career & Networking Lunch" in collaboration with the Career Development Office of Yale to give students the opportunity to develop their professional skills.
Due to the popularity of these events among the students, TFD anticipates making TFD Week a recurring annual event.
TFD week's events included: