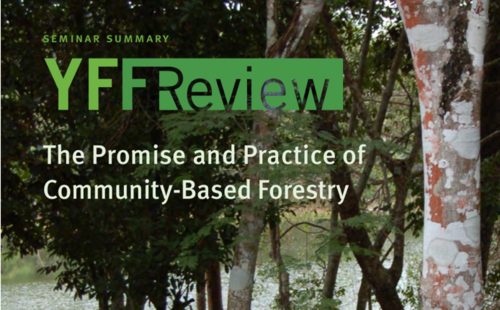 The Yale Forest Forum (YFF) has been engaging people with the most important issues in forestry since 1994. In the spring of 2021, YFF brought together more than 1,000 registered attendees from all around the world for a series of Webinars to hear from 10 leaders and experts in community-based forestry (CBF). Communities increasing loss of rights to forest access and use has spurred interest in understanding and expanding the model of CBF. The YFF speakers gave many examples of how colonial land seizure, state appropriation of forests, and industrial forestry have all been implicated in wresting control of forests away from local people over the past century, and how CBF can help correct those wrongs. In every case, CBF stands out as an alternative mode of forest governance that allows local people to make their own decisions about the ecosystems around them.
Stakeholders from The Forests Dialogue's 
Steering Committee and 
global network were amongst the speakers featured during the webinar series. Notably, TFD Steering Committee members 
David Ganz, Victor Lopez
, Fernanda Rodrigues, Marcus Colchester, and C
é
cile Ndjebet
as well as TFD's Co-Leader 
 Milagre Nuvunga shared their perspectives with audiences over the 10 weeks. 
The Promise and Practice of Community-Based Forestry speaker series was jointly hosted by The Forests Dialogue and the Urban Resources Initiative.  The Urban Resources Initiative is a community-driven urban forestry organization focused on planting street trees, providing green jobs training, and supporting community groups in managing green spaces in New Haven.
The YFF Review captures information delivered during the YFF speaker series to extend the outcomes of the lecture series and inform additional interested audiences. We hope that you will find the information in this YFF Review useful and stimulating. 
You may also view the original event description for the readingss and webinar recordings associated with each talk.