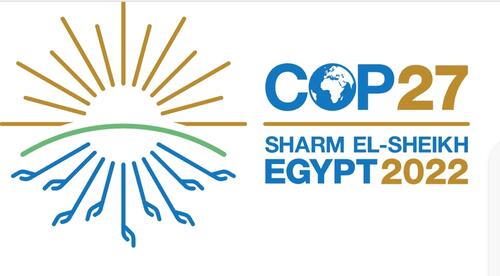 By Alex Weyerhaeuser, Yale School of the Environment, M.E.M '23 and TFD Communications Associate
November 6-18, 2022: members of The Forests Dialogue (TFD) convened in Sharm el-Sheikh, Egypt for the 27th Conference of the Parties to the United Nations Framework Convention on Climate Change (COP27 or COP) to join in a global discussion that aimed to develop a vision and an action plan towards achieving the world's collective climate goals. Participants arrived at COP representing their respective organizations (governments, NGOs, academia, the private sector, etc.) from countries around the world, but shared in a collective dialogue experience familiar to them through their work with TFD—because what is COP but a mega-multistakeholder-dialogue?
Steering Committee members in attendance included Chris Buss (International Union for Conservation of Nature/IUCN), José Carlos da Fonseca (Indústria Brasileira de Árvores/IBÁ), Paul Hartman (The Climate Investment Funds) Cécile Ndjebet (African Women's Network for Community Management of Forests/REFACOF), and Carolina Toapanta (BOMACO Foundation), as well as TFD Associate Nick Nugent '23 MEM. These experts in their respective fields and colleagues in TFD crossed paths at side events, collaborated on panels, and co-hosted initiatives, such as an event about financing nature-based solutions that Hartman helped coordinate with Ndjebet serving as a core panelist. "Everybody there was very proud to wave the TFD flag and feel the camaraderie between us, and even though we were representing different organizations it was great to feel connected and support each other," Hartman reflected, "it's a good network to be connected to."
Toapanta, particularly interested in how TFD could be part of Steering Committee members' daily work fighting climate change in their respective territories, leaned into this network. She joined forces with Fonseca, Ndjebet and Nugent to organize an impromptu panel discussing the value of dialogue and local actors in addressing fracture lines related to forest landscapes and climate change. Pulling in regional experiences from multiple countries across Latin America and Africa, each panelist brought a unique perspective: Toapanta talked about her work with communities from an NGO and local government lens in Ecuador, Fonseca brought his expertise from the private sector working with communities in Brazilian landscapes, and Ndjebet shared her experience working with women at the local level in the Congo Basin to increase land access and rights through social and legal empowerment. "Getting to know Cécile's work inspired me and gave me insight into how to bring the gender agenda into my everyday work," Toapanta reflected, "and José Carlos taught me how private companies are getting involved in forestry and climate change work, which gave me hope as a biologist." Nugent, who moderated the session, was struck by Toapanta's work and the importance of connecting local conversations with the county- or district-level to build solutions that support community needs.
Compounding on this meta dialogue-about-the-importance-of-dialogue, the broader dialogue at COP provided insights, inspiration, networking, and partnerships on which the Steering Committee members in attendance continue to reflect and revisit. Ndjebet was grateful for the opportunity to present one of the biggest challenges in her work—garnering funding to support her work with Afro-descendent and rural women—on a larger scale to develop potential partnerships and support. "We had some people who were interested in working with us but we have to make it concrete," she shared, noticing a clear momentum towards concrete action. For example, she raised interest in a partnership with the World Bank Group (WBG) through a panel with TFD colleague, Paul Hartman, to support her work helping rural women in the Congo Basin achieve land tenure through WBG's Dedicated Grant Mechanism for Indigenous Peoples and local communities (DGM). "COP was for action and the multi-stakeholder dialogue was very useful for us to begin overcoming some of our challenges and come up with creative initiatives and develop an approach that makes sure everyone is around the table so we can analyze and look for solutions together." She is spending this time after the holidays following-up with these new contacts, requesting support from donor communities and various ministries to get on-the-ground implementation underway.
Toapanta also commended the COP dialogue process, expressing that "dialogue has a role in joining different voices from different areas together," a unique experience she hasn't seen at this level besides her work with TFD. She expressed excitement and hope about joining forces with contacts she met at COP and through TFD, for example organizing a dialogue in Ecuador with TFD colleague Fonseca, and partnering with the Governors' Climate and Forests Task Force through the University of Colorado, a fellow academic institution interested in TFD's work with Yale. Toapanta expressed a striking generosity and commitment to collaboration and dialogue, succinctly summing up her feelings towards her TFD colleagues' work: "If they ask me something, I will be there for them because we all have the same goals."
Expectedly, COP generally raises questions about implementation of actionable and impactful outcomes. Hartman conceded that events, sessions, and dialogues help inform negotiators about issues that are important, but that at times he felt a disconnect between the side events and the negotiations. In a nod to TFD's work, he acknowledged that many at TFD are skilled at "peeling back the layers and understanding what is important," but that there is a need to "make sure these dialogues are actually leading to outcomes" and not just "white noise." He left COP feeling hopeful, however, because of the "evolution of discussions and dialogues."
Hope was a common theme tethering TFD members at COP to their continued work and to one another. This hope refueled their engines to dig even deeper into their efforts; Fonseca and Toapanta suggested planning TFD events at COP more comprehensively in advance "to have an even bigger footprint" at future COPs, as Toapanta put it, since this impromptu one was so well-received and garnered a wave of interest in and support for TFD's work. Moreover, Ndjebet and Toapanta suggested using this interest as momentum to promote TFD's initiatives, especially using its platform within the Yale School of the Environment (YSE) to raise awareness in other circles of academia, as well as using its collaborative, participatory approach to expand into and include more communities' needs.
"I left COP feeling hopeful because I could see broadly more momentum towards the things that I find important and the proof is what's generated in the more formal documents and pledges and major announcements that come out of this," Hartman concluded. He cited the focus on nature-based solutions, the increasing acknowledgement of the importance indigenous communities play as part of the global climate solution, and the negotiations on shifting production and use away from fossil fuels—a topic that was once taboo—as "positive demonstrations that we are moving in a better direction than we were five or ten or fifteen years ago." However, hope alone is perhaps dangerous when discussing climate change action, and he ended on a wake-up call: "I just hope that we're not too late and we can move on these things with enough speed and determination that we can achieve our global goals."