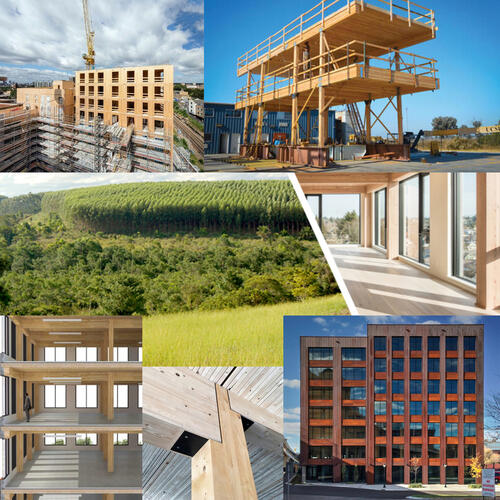 By Sara Santiago '19 MF
Climate Positive Forest Products (CPFP). This is a bit of a mouthful, requiring some thought as to what these products might be and how they may or may not curb climate change. What comes to mind? For The Forests Dialogue (TFD), "mass timber," short for massive timber, is one type of CPFP with a lot of potential. A relatively new class of building materials, mass timber refers to technology where smaller pieces of wood are combined to form larger, often structural, components of a building. Mass timber has the potential to provide net climate benefits through carbon sequestration, to store carbon in wood biomass, and to deliver carbon substitution benefits through avoided emissions. The ultimate goal is to use CPFPs as a significant climate change mitigation solution, yet, what does an increased demand for mass timber materials mean for the world's forests and forest-dwelling peoples?
Like tree sap, this concept and the science around it are sticky, with both proponents and skeptics. However, The Forests Dialogue – a center housed at The Forest School at the Yale School of the Environment (YSE) with 20 years of experience in convening multi-stakeholder dialogues in the forests sector– situates itself and thrives in these sticky, grey areas of potential conflict in search of shared solutions.
In 2020, the TFD Steering Committee launched the Climate Positive Forest Products Initiative. In April and May 2021, TFD held a virtual scoping dialogue over three sessions as a first step to suss out the main issues around mass timber and the "fracture lines," or areas of conflict, related to forest products as a climate change mitigation tool. This initiative folds into previous discussions on the intersection of forests and climate with a new spin and context – the desire for this dialogue originated from the building sector, asking how could mass timber work to decarbonize the building sector?
The scoping dialogue was jointly planned by TFD and the World Resources Institute (WRI) in collaboration with the Climate Smart Forest Economy Program (CSFEP), which in its own right is a partnership between WRI, the World Economic Forum, Climate-KIC, and The Nature Conservancy (TNC). The dialogue brought together over 60 stakeholders from NGOs, timber and manufacturing companies, government and sub-national entities, academia, and construction and architecture firms. Proponents of CPFPs draw upon the research of Chukina et al. (2020) and Chen et al. (2019). They are eager to store carbon in building materials and to meet the expected construction demands of India, Brazil, China, and regions of Africa with building materials that have lower associated carbon emissions than traditional building materials like steel and concrete. Meanwhile, others would prefer to dedicate energy to thinking about how to stop cutting forests as a climate solution, rather than developing more wood products.
In its first virtual – yet highly engaging – scoping dialogue, TFD and trained student rapporteurs facilitated discussion amongst stakeholders "to share current activities, agree on knowledge gaps, identify areas of disagreement, and build collaboration to align future actions." As outputs in the coming weeks, we anticipate seeing a background paper on current knowledge and gaps, an official meeting summary by the dialogue co-chairs, and identification of future collaborative research efforts to inform knowledge, themes, and key-regions where future dialogues should be focused.
Moving forward, looking back is inevitable. This scoping dialogue is reminiscent of TFD's beginnings 20 years ago during the conflicts of the timber and certification wars. Executive Director Gary Dunning '96 MF, who has been with TFD since its inception, reflects: "Initially, in the '90s, the forest sector was fighting internally about what sustainable forestry looks like. Now, the forest sector is being approached from the outside by designers, architects, and engineers who are asking how to use wood sustainably."
Many stakeholders from that time are involved in the scoping CPFPs now, drawing upon memories and lessons learned of from then to avoid recreating the same friction and conflicts, in order to deliberately move toward long-term goals on forests and climate. Dunning discussed this with participants and concluded: "While some things change, some things stay the same. We are still pondering what sustainable forestry looks like but now under climate amelioration. We don't yet have a unified answer and still need dialogue!
Research References:
Churkina, G., Organschi, A., Reyer, C.P.O. et al. (2020) Buildings as a global carbon sink. Nat Sustain 3, 269–276 https://doi.org/10.1038/s41893-019-0462-4
Chen, C., F. Pierobon, and I. Ganguly. (2019) Life Cycle Assessment (LCA) of Cross-Laminated Timber (CLT) Produced in Western Washington: The Role of Logistics and Wood Species Mix. Sustainability. 11: 1278, doi:10.3390/su11051278