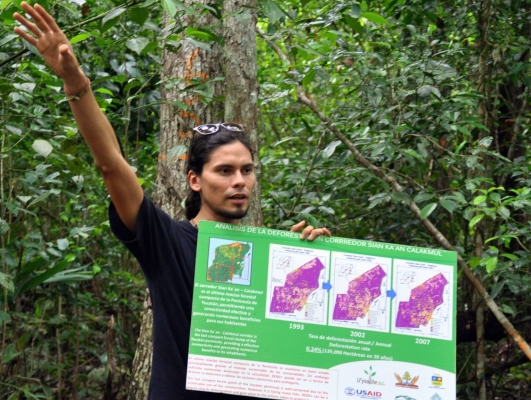 LIMA, Peru– REDD+ benefit-sharing needs to be designed with forest-dependent communities firmly in mind, recommends a new report by The Forests Dialogue (TFD) in partnership with International Union for Conservation of Nature (IUCN).  Involvement of forest-dependent communities in designing and sharing benefits for REDD+ can lead to more sustainable land uses, thereby reducing deforestation and degradation, says the report, released today at the 20th session of the United Nations Conference of Parties (COP 20) in Lima, Peru.
The new report, Country Options for REDD+ Benefit Sharing, offers unique insights linking international aspirations to mitigate climate change with practical options on the ground that can reduce deforestation and degradation. The report stems from a series of international dialogues with 250 key forest stakeholders from 25 countries which took place in the United States, Vietnam, Ghana, Peru and Mexico over the past two years. The insights and examples in the report will be critical for negotiators discussing an international framework on REDD+ at COP 20.
 "Designing REDD+ benefit-sharing mechanisms to take into consideration the needs of forest-dependent communities is both a moral obligation and a pre-condition for success in each of the four dialogue countries, and this is likely to also be the case in all countries interested in REDD+," said Chris Buss, Deputy Director of IUCN's Global Forest and Climate Change Programme. "The experiences from the four field dialogue countries showed that rural development as well as the engagement of forest-dependent communities are two of the most critical elements to make REDD+ Benefit Sharing work."
The report highlights that considerable confusion exists when different stakeholders discuss REDD+ benefit sharing. It recommends utilizing local and regional multi-stakeholder platforms to better understand divergent perceptions and to facilitate consensus.
"Even the most basic term 'benefit' has been used to refer to different concepts by different stakeholders", explains Gary Dunning, Executive Director of TFD, "But despite differing perceptions of benefits, consensus exists that benefits from REDD+ are beyond emission reductions, and beyond cash payments for those reductions. These benefits can also include secure tenure rights, capacity building, and diversified income streams through the sustainable, productive use of forests."
Using lessons from the dialogues, the report offers options to design a decentralized decision-making process for REDD+ benefit sharing that can maintain legitimacy and lead to solutions suitable for a given local context. For example, in Mexico, local stakeholders can develop their own investment plans for REDD+. Those investments plans will be evaluated by a multi-stakeholder committee at state level under the guidance of the federal government.
"The strategy adopted by Mexico allows flexibility for local stakeholders to define beneficiaries and benefits in alignment with different states' REDD+ strategies." Says Leticia Gutierrez Lorandi, REDD+ senior policy advisor, The Nature Conservancy, Mexico, "Getting this done by involving the community level will take strong local efforts and enforceable protections for the people and the environment." 
To succeed, private-sector actors must be actively engaged in REDD+ as well, to generate and share benefits, according to the report. Private sector participants can range in form and scale from smallholders and entrepreneurs, to small and medium-sized enterprises and cooperatives, to "impact investors", who are willing to accept higher financial risks if coupled with positive social outcomes, and corporate social responsibility investors.
"Different types of private-sector actors can have different reasons for engaging in REDD+." Says Uta Jungermann, Manager of Forest Solutions Group at World Business Council for Sustainable Development, "One key entry point for a company is to determine whether and where REDD+ interventions can enhance or add value to its present product or environmental-service supply chain. Benefit-sharing then becomes a matter of evaluating how and where incremental benefits can be shared among existing stakeholders and with any new participants to the value chain."
Download the publications: Handbook and TFD Review
Follow us on Twitter: @forestsdialogue
Notes for Editors
Contact Information
Gary Dunning – Executive Director, The Forests Dialogue (TFD) Tel: +1 203 432 5966
About REDD
REDD+ is a mechanism to mitigate climate change that implies paying for reductions in greenhouse gas emissions from deforestation and forest degradation made through forest conservation, the sustainable management of forests and the enhancement of forest carbon stocks in developing countries.
About TFD
TFD, The Forests Dialogue, is an autonomous organization hosted by Yale University.  Utilizing a multi-stakeholder dialogue process, TFD builds trust among leaders, shared understanding on complex challenges and collaborative solutions on the most urgent global forest issues. http:// theforestsdialogue.org
TFD partnered with International Union for Conservation of Nature (IUCN) on the series of dialogues on REDD+ Benefit Sharing. The Initiative's 5 international dialogues culminated in the development of the review and handbook. The Initiative was funded by support from the German Federal Ministry for the Environment, Nature Conservation, Building and Nuclear Safety (BMUB). More information about TFD's REDD+ Benefit Sharing Initiative can be found at: http://theforestsdialogue.org/initiatives/REDD+BenefitSharing
About IUCN
IUCN, International Union for Conservation of Nature, helps the world find pragmatic solutions to our most pressing environment and development challenges. IUCN works on biodiversity, climate change, energy, human livelihoods and greening the world economy by supporting scientific research, managing field projects all over the world, and bringing governments, NGOs, the UN and companies together to develop policy, laws and best practice. IUCN is the world's oldest and largest global environmental organization, with more than 1,200 government and NGO members and almost 11,000 volunteer experts in some 160 countries. IUCN's work is supported by over 1,000 staff in 45 offices and hundreds of partners in public, NGO and private sectors around the world. http://www.iucn.org