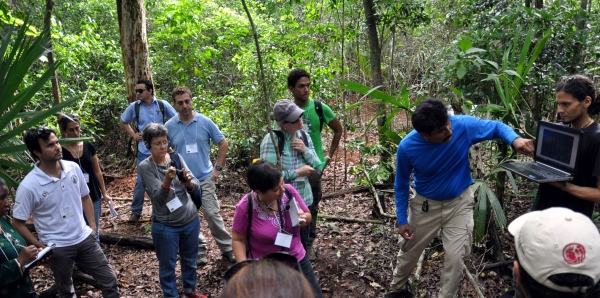 Chetumal, Mexico | June 2 - 5  The Forests Dialogue's REDD+ Benefit Sharing Field Dialogue in Mexico recently concluded. Participants spent two days visiting different field sites where they discussed  how benefit sharing mechanisms are designed and implemented with local communities, researchers, companies and government representatives. Based on the field trip experience as well as a background paper that introduced the context of Benefit Sharing discussions in Mexico, Dialogue participants took part in two days of facilitated discussions in both plenary and small groups. 
Major themes of discussion included how to integrate gender into the existing benefit sharing strategy, how to identify the beneficiaries of REDD+, and how to select which activities should receive benefits. Within a month, TFD will publish the co-chair summary which will discuss these main themes, among others. For more information and to view presentations from the Dialogue, visit the Dialogue page. 
Photos from the Dialogue can be found here.