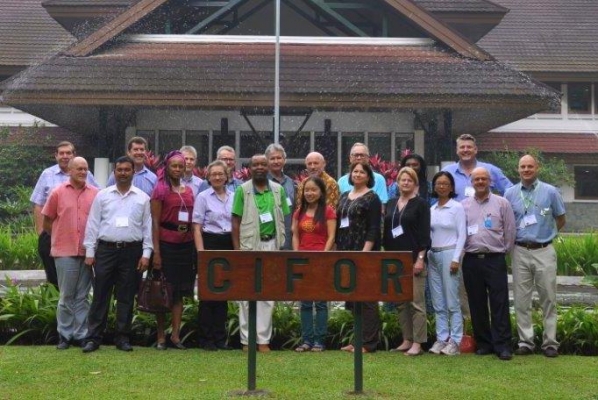 The Forests Dialogue is happy to welcome seven new members to our Steering Committee who exemplify diversity, expertise and leadership. Rod Taylor Director of WWF International's Forests Programme and a current co-leader of the TFD Steering Committee states, "The new members of the Steering Committee bring enormous talent and experience to TFD as well as representing a diversity of stakeholders. I look forward to learning from them."
With the new members, TFD has been able to reach individuals representing multiple sectors and interests. The non-profit sector is represented by three new members that specialize in both environmental and social issues. Peng Ren, working at the Global Environmental Institute in China, has encouraged responsible environmental and social international investments from Chinese companies since 2007. Ms. Joji Cariño has spent her life's work on advocating for indigenous peoples' rights. She is continuing to pursue this passion as the Director of the Forest People's Programme. In a similar vein, Ms. Cecile Ndjebet has a long history of advocating for women's rights in the forest sector, most recently as the President of the African Women's Network for Community Management of Forests. She is passionate about her cause: "As a member of the TFD Steering Committee, I would like to contribute to (1) the advancement of women's rights to land and forest resources, and (2) the improvement of access to financial resources for rural women."  
"One of the greatest strengths of TFD's Steering Committee is that it brings together people from diverse fields allowing the organization to learn from a wide variety of expertise" states Gary Dunning, Executive Director of TFD. Complementing the new members from the public sector, come several individuals from the forestry industry. Dr. Antti Marjokorpi, the Vice President of Sustainability for Stora Enso, is one such member. Dr. Marjokorpi decided to join the Steering Committee because of his experience with TFD in the past: "I have found that TFD is a unique platform. It has been successful in enhancing understanding and positive change in topical forest issues." Undoubtedly, Dr. Marjokorpi will continue to support TFD in this work with his expertise in tropical forest rehabilitation and conservation.
Ms. Ivone Namikawa, will bring additional technical expertise to the Steering Committee from her work developing indicators to control and improve levels of sustainability in her position at Klabin. Moving from paper companies, to forests, Mr. Lennart Ackzell, the International Coordinator at the Swedish Federation of Family Forest Owners offers a unique perspective, translating local forestry issues for an international audience. Mr. Ackzell is excited to contribute to TFD, "The TFD spirit of entering areas of conflicting interests through dialogue has always been a very impressive way to seek sound, smart, win-win solutions instead of the common, inflexible rhetoric. The pragmatism to go further is progressive. I am therefore proud to enter the TFD Steering Committee with all of its very interesting members. I hope I can contribute to the work and I have a deep belief in the potential for local participation to help develop the values of trees and forests."
Furthering the international knowledge is Mr. James Griffiths from the World Business Council for Sustainable Development. Mr. Griffiths is joining the Steering Committee with extensive experience negotiating between international companies and agencies on issues of ecosystem impacts and dependence, water and sustainable forest products.
Joseph Lawson, current Steering Committee Co-Leader and Global Director of Sustainable Forestry at MeadWestvaco Corporation sums it up nicely: "The new Steering Committee members have an impressive wealth of experience and knowledge that will surely support TFD's goal of addressing the most pertinent forest issues."