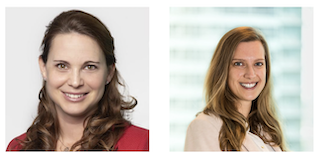 By Alex Weyerhaeuser, Yale School of the Environment, M.E.M '23 and TFD Communications Associate
As a multistakeholder organization that aims to build bridges across fracture lines in forestry and land use, it is important that the members of The Forests Dialogue (TFD)'s governing body, the Steering Committee, represent a wide range of backgrounds, perspectives, areas of expertise, interpersonal skills, and geographic regions. This year, TFD welcomes two new leaders in forestry to the Steering Committee: Angela Graham-Brown, Director of the World Business Council for Sustainable Development's (WBCSD) Forest Solutions Group (FSG), and Marthe Tollenaar, ESG Director at SAIL Ventures. They round out a group of 23 members, all chosen not only for their forestry expertise and leadership, but for their "abilities to help build trust and a shared understanding within a collaborative environment."[1] Both women are excellently positioned and looking forward to doing just that.
Angela Graham-Brown's background in corporate sustainability has exposed her to many sectors beyond the forest, which she describes allowing her to "put some of the thinking within the forest sector into a broader perspective." At FSG, she leads a "global platform where leading businesses in the forest sector build and share solutions for sustainable development," currently focused on net-zero and nature-positive corporate strategies. She aims not only to stay at the forefront of sustainability within the forest sector, but to continue raising the bar for the industry. She strives to keep her finger on the pulse of the global context in which the forest industry operates and "stay connected to a large constellation of stakeholders in forestry and sustainable operations." Working with a group of companies that collaborate and communicate on a regular basis, she also aspires to continue enabling forest companies to challenge themselves and their reach.
Angela is excited to join TFD to expose FSG's work to a broader audience to ensure they are addressing the issues forest sector stakeholders and communities care about and continue to challenge the thinking of the companies. Two agendas in particular—TFD's Restoration Initiative, which aims to enhance "the forest sector's engagement in ecosystem restoration,"[2] and exploring the role of the forest sector in the global decarbonization agenda—are especially important to her and she looks forward to contributing as the voice of business within the forest sector: "I hope to learn from the stakeholders in the field, the other members of the Steering Committee, and build a network of professional connections to foster further collaboration."
Marthe Tollenaar joins TFD from a tropical forestry and finance background. Her passion for tropical forestry began while studying biology, ecology and natural resource management at the University of Amsterdam and the University of Urecht. Since then, her career has ranged from tropical agriculture finance, to managing tropical forests within the context of business, to nonprofit restoration projects with carbon markets, to tropical biodiversity and land rights work, in researcher, consultant, and managerial roles. As ESG Director at SAIL Ventures, she currently "helps shape the investment portfolio of the &Green Fund, selecting and designing agricultural commodity production blueprints in the tropics that can support the transition towards a deforestation-free production model." Marthe is interested in being "on the ground," hands-on managing landscapes sustainably and profitably in ways that benefit their communities. She is focused on bringing indigenous people and business together in a sustainable, mutually-beneficial way. "This links to what TFD stands for with dialogue," she reflected, "bringing people together in sustainable landscape management."
Like Angela, Marthe continues to challenge and push what it means to work in sustainable business: "What is the next big crisis after carbon?" she asks. The topics she embraces offer an opportunity to focus on the broader, often less frequently highlighted impacts of climate change, and she envisions her work with TFD as an opportunity to bring investors' attention to restoration, conservation, and reforestation. She also hopes to get involved with TFD's initiatives on Restoration, as well as the Land Use Dialogue, which aims to support multi-stakeholder decision-making processes for collaborative, adaptive land management in specific landscapes.[3] She aims to understand where to focus our attention, what efforts do we put in place that are effective, efficient, and sufficient, and what metrics do we use to measure this work. "We work in landscapes and you cannot do anything in a landscape without dialogue," she observed.
TFD looks forward to collaborating with Angela and Marthe and welcomes their unique expertise and enthusiasm for TFD's mission. "We are very excited to welcome Angela and Marthe to TFD," said Gary Dunning '96 MF, Executive Director of TFD and The Forest School at the Yale School of the Environment. "They each represent key stakeholder groups vital to the future of forests. Individually, both are respected leaders known to help bring diverse perspectives together to find collaborative solutions. Just what TFD needs!"
TFD's Steering Committee will convene January 31-February 3, 2023 for the first in-person meeting since 2020.