Co-Chairs' Summary: Tree Plantations in the Landscape (TPL) Dialogue in Brazil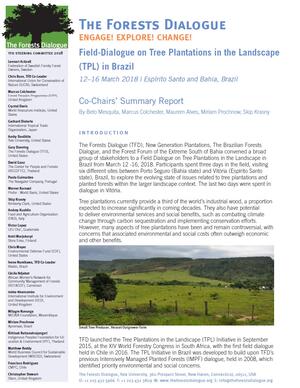 Body:
The Forests Dialogue (TFD) and the New Generation Plantations (NGP) platform, hosted a broad group of stakeholders to a Field Dialogue on Tree Plantations in the Landscape in Brazil from March 12 -16, 2018. Participants spent three days in the field, visiting six different sites in the Atlantic Forest Region of Eastern Brazil to explore the evolving state of issues related to tree plantations and planted forests within the larger landscape context, with the last two days spent in dialogue.
---
O Diálogo Florestal Internacional, Plantações de Nova Geração, Diálogo Florestal Brasileiro, e Fórum Florestal do Extremo Sul da Bahia reuniram um amplo e diverso grupo de interessados para o Diálogo de Campo sobre Plantações Florestais na Paisagem (TPL) no Brasil, de 12 a 16 de março de 2018. Os participantes passaram três dias em visitas de campo na região da Mata Atlântica, no nordeste e no sudeste do país, para explorar os assuntos envolvendo plantações florestais na escala da paisagem em seu contexto, e o diálogo foi realizado nos últimos dois dias.