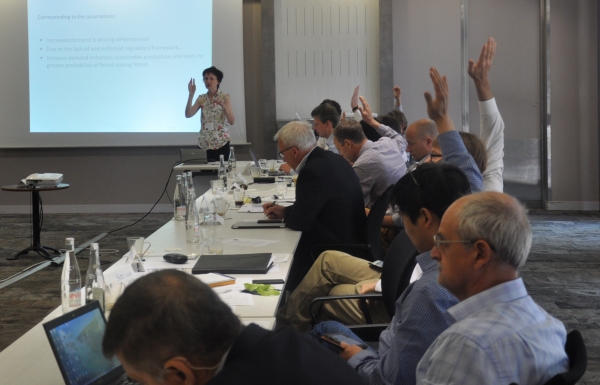 In partnership with the Sustainable Biomass Partnership (SBP), the Program on Forests (PROFOR), and the World Business Council for Sustainable Development (WBCSD), The Forests Dialogue (TFD) organized a scoping dialogue on the use of sustainable woody biomass for energy production. The venue and logistics for the dialogue were co-organized with the National Autonomous University of Mexico (IIES-UNAM) and the Stockholm Environment Institute (SEI).
Bringing together stakeholders and experts from business, civil society, government, research and development institutions – all with a common focus on the challenges and opportunities associated with expanding wood energy use – the scoping dialogue had four key objectives:
-  Confirm key areas of agreement and disagreement or "fracture lines";
-  Identify any additional issues areas and information gaps;
-  Explore possible sustainable and climate smart wood energy solutions across stakeholder groups and end     use contexts; and
-  Identify any additional issues areas and information gaps;
-  Determine if there is a dialogue-based path forward for stakeholders to make meaningful progress    towards a common and compelling vision for a sustainable wood energy future.
A total of 37 participants from more than a dozen countries took part in the scoping dialogue in Montpellier, France, starting on the evening June 20th concluding on the afternoon of June 22nd, 2016.
This report summarizes key observations and discussions from the dialogue, including some proposed pathways forward for consideration by the TFD Advisory Group set up to prepare this scoping dialogue and by the TFD Steering Committee, its overarching governance body.
You can download the report here