Land Use Dialogue Guide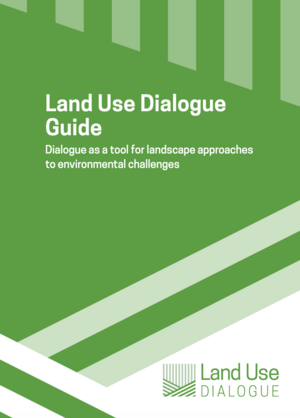 The Land Use Dialogue Guide is an implementer's guide but not in the sense of do x,y,z to achieve some outcome. Instead it presents stages of decision making in which LUD leadership will need to consider how to shape the process to meet their unique context and needs.
The Land Use Dialogue is one of TFD's key initiatives, aimed at supporting learning processes in landscapes around the world where stakeholders are applying a landscape approach to environmental decision making. Landscape approaches are increasingly used with the understanding that what one actor does on their land impacts the surrounding land uses and resources throughout the landscape. While this concept has long been understood in environmental sciences, many institutions and governance processes remain siloed to their own specializations, be it forest conservation or agriculture. The Land Use Dialogue initiative aims to support a process for leaders and representatives across sectors and interests to understand: 1) varying visions for land use, conservation, and development in the landscape, 2) identify trade-offs and synergies, and 3) work towards solutions.
You might also be interested in these publications: