Investment in Locally Controlled Forestry in the South East European Sub-Region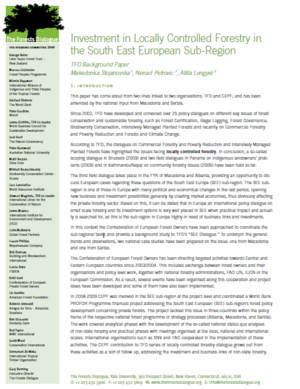 This paper has come about from two lines linked to two organizations: TFD and CEPF; and has been amended by the national input from Macedonia and Serbia. Since 2002, TFD have developed and convened over 25 policy dialogues on different key issues of forest conservation and sustainable forestry, such as Forest Certification, Illegal Logging, Forest Governance, Biodiversity Conservation, Intensively Managed Planted Forests and recently on Commercial Forestry and Poverty Reduction and Forests and Climate Change.
In this context the Confederation of European Forest Owners have been approached to coordinate the sub-regional tasks and provide a background study to TFD's "SEE Dialogue." To underpin the general trends and observations, two national case studies have been prepared on the issue: one from Macedonia and one from Serbia.
You might also be interested in these publications: